Exhibitor Spotlight – BINGLE! Premier Lighting of Oklahoma City
Jan 12, 2023, 19:00 PM
Blingle! Is a national team of expert lighting designers that started off as a little bit of holiday fun to keep its global founder, Mike Marlow busy, and quickly exploded into the successful business that rapidly grows, year over year. Blingle! is independently owned and operated. From their customer service representatives to their designers, it's their mission to provide you with nothing short of an excellent experience and to provide event, holiday, permanent home exterior, and commercial lighting solutions that shine above the rest!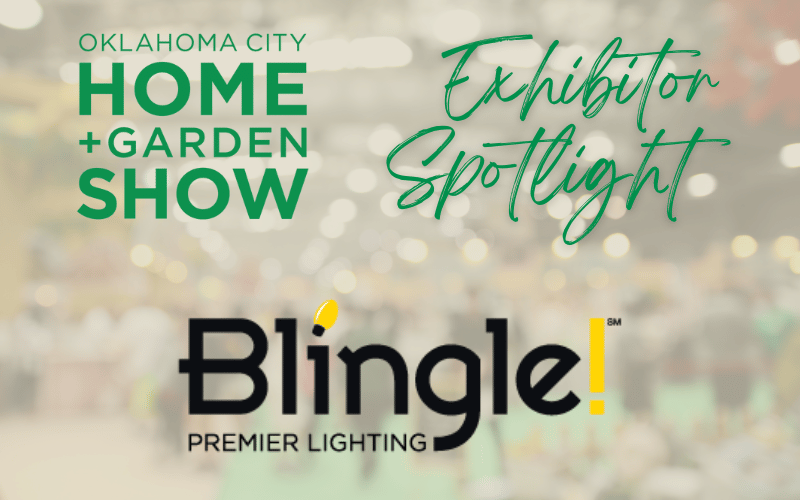 Devin Jackson is the Owner of Blingle! of Oklahoma City and has been a proud member of the community since 2014. Taking his inspiration from the fiercely loyal members of the OKC family, Devin is passionate about highlighting the kindness, happiness, and joy that make the vibrant OKC area really shine. With an MBA from Oklahoma Christian University, and 16+ years working in regulatory compliance, Devin brings his business expertise and love for the city together for a vision to bring your lighting projects to life. Whether it is lighting up one of the many gatherings that show off the hometown roots of OKC or designing a custom project for the perfect holiday showpiece – Devin and his team are ready to provide the customer experience you seek with the "Wow!" factor results.
He sat down with our team prior to our Oklahoma City Home + Garden Show to share his expertise with our team and show attendees!
Describe Your Product or Service
Year-round exterior luxury lighting products, installation, and maintenance. Our low-voltage LED systems include landscape, special events, permanent, and temporary holiday lighting.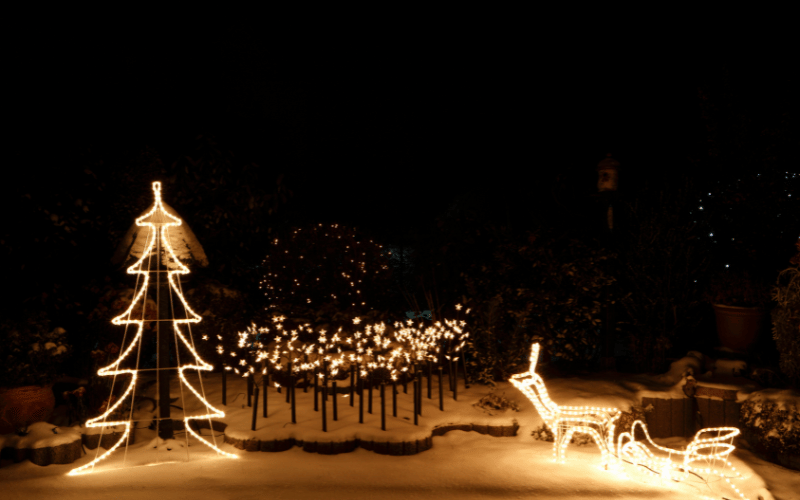 a. Landscape lighting: Our exterior lighting portfolio, combined with our team of specialists, can merge beauty and functionality for any home's landscape and patio needs. Highlight the beauty of your home's architecture and create the perfect setting for your outdoor venue with durable, weather-proof lighting built to withstand the harshest Oklahoma elements.

b. Event lighting: We create a wide assortment of aesthetics, from the rustic-chic to the lavishly-intricate. Our lighting design team has the ability to handle any size of event, whether that is an intimate gathering or a bountiful soiree.

c. Permanent lighting: Long-lasting and elegant, Blingle's permanent lighting setups will have you feeling like every day is a holiday. Our permanent lighting technology is outfitted with RGB capabilities, allowing millions of light color options custom-catered to your every need. One installation, and you have hands-free year-round lighting built for any season or occasion.

d. Holiday lighting: Blingle's extraordinary design team and an array of lighting options will help you craft your very own unique holiday experience. No more clambering up rickety ladders with outdated lights during the next holiday season! We use the latest and greatest in lighting technology to make your home and event shine bright.
What are your best home or garden tips for this season?
a. Consider the purpose of your lighting: Do you want to highlight specific features of your home or garden, or do you want to create a warm and welcoming atmosphere? This will help you decide on the type of lighting to use.
b. Use a variety of lighting sources: A combination of ambient, task, and accent lighting can create a well-balanced and visually appealing outdoor space.
c. Install energy-efficient light bulbs: Look for LED bulbs, which use less energy and have a longer lifespan than traditional incandescent bulbs.
d. Incorporate natural light: Consider using solar-powered lights or placing light sources near windows or skylights to take advantage of natural light during the day.
e. Pay attention to placement: Place lights at varying heights and angles to add depth and interest to your outdoor space.
f. Use dimmer switches or timers: This allows you to control the intensity and duration of your outdoor lighting and can save energy.
g. Consider the color temperature of your bulbs: Warmer-colored bulbs (2700K-3000K) create a cozy atmosphere, while cooler-colored bulbs (5000K-6500K) create a more modern and energetic feel.
h. Don't forget safety: Make sure walkways and stairs are well-lit to prevent trips and falls.
What are your featured items this season? (sales, popular services, show specials, etc.)
a. No cost design for landscape, permanent, and event lighting projects
b. 10% off landscape installation, our special designed just for the OKC Home & Garden Show!
What are your home or garden pet peeves?
a. Glare: Excessively bright or improperly placed light sources can create glare and cause discomfort or even safety issues.

b. Shadows: Poorly placed light sources can create deep shadows that obscure details or make areas appear unsafe.
c. Harsh or unflattering light: Bright, white light can be unflattering and make skin look pale or washed out. It can also create a harsh or clinical atmosphere.

d. Lack of variety: Using only one type of light source or lighting technique can make an outdoor space feel monotonous.

e. Inadequate lighting: Not having enough light in an outdoor space can create a sense of unease or make it difficult to navigate.

f. Poorly designed fixtures: Fixtures that are too large, too small, or out of proportion to the space can be visually jarring.

g. Inconsistency: Inconsistent lighting levels or styles can make an outdoor space feel disjointed or unfinished.

h. Lack of maintenance: Fixtures that are dirty, damaged, or not functioning properly can ruin the overall look of an outdoor space.
What is the strangest client request you've ever received?
We have discovered that people try to reuse cheap buried electrical cords and connectors with high-end upgraded landscape lighting fixtures. This is a big and very preventable mistake for two reasons:
1) the hardware degrades over time,
2) the previous installer may not have created balanced wire runs that are wired for an appropriate voltage load.
Know this: low-voltage lighting is an engineered system. Many people do not understand how voltage drops reduce the life of LED lights, the impact of series versus parallel electrical circuit design, or why an LED would begin to flicker and ultimately fail. Engineers and savvy installers know how to drive a custom lighting system and use the best wiring, especially connectors, to maximize the lifespan of each bulb and fixture.
What is your favorite part about the home show?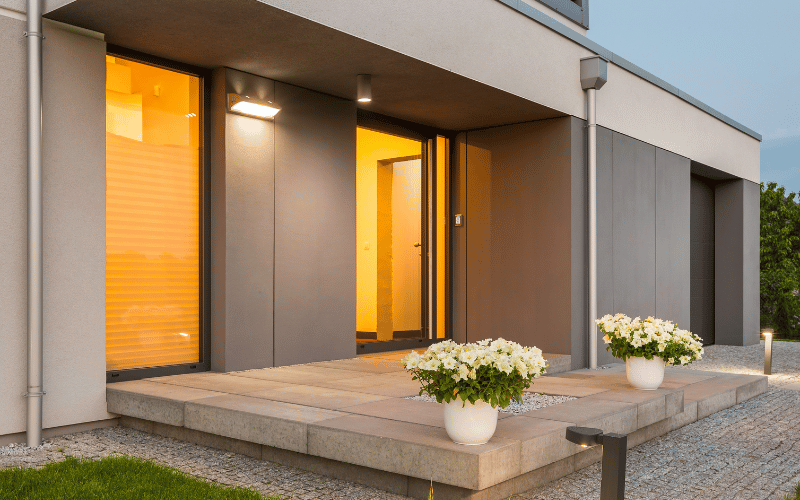 a. Seeing the latest trends and products: Home and garden shows often feature new and innovative products and design ideas, giving attendees the opportunity to see what's currently popular and get ideas for their own spaces.
b. Learning from experts: Many home and garden shows offer seminars and workshops led by industry experts, giving attendees the chance to learn about topics such as landscaping, home improvement, and interior design.
c. Meeting local professionals: Attendees may have the opportunity to meet and connect with local contractors, designers, and other professionals who can help them with their home and garden projects.
d. Seeing live demonstrations: Many home and garden shows feature live demonstrations of products and techniques, giving attendees the chance to see how things work and get a sense of what it would be like to use them in their own spaces.
e. Finding inspiration: Seeing the diverse range of home and garden styles and products can be a great source of inspiration for attendees looking to update or refresh their own spaces.
f. Having fun: Home and garden shows can also be a fun and social event, with food, music, and other entertainment often offered in addition to the exhibits and demonstrations.
Why do you love the home show?
This is our favorite crowd! If we weren't exhibiting ourselves, then we would buy an admission ticket and walk the floor too. Every aisle is fun, and every booth is inspiring!
Where do you look for inspiration for your home or garden projects?
a. Home and garden magazines: These publications often feature articles and photos showcasing the latest trends and ideas in outdoor lighting.
b. Online resources: There are many websites and blogs dedicated to home and garden design, including outdoor lighting, that can provide inspiration and ideas.
c. Home and garden shows (of course!): These events can be a great source of inspiration for outdoor lighting and other home and garden projects.
d. Home improvement stores: Many home improvement stores have display areas or showrooms featuring outdoor lighting products, which can give people an idea of what different options look like in a real-life setting. Beware though, the products are built very cheaply and may only last for a short while. Those products may not be worth the long-term investment.
e. Landscape design professionals (like Blingle!): Landscape designers and architects can provide ideas and guidance on outdoor lighting that is functional and aesthetically pleasing.
f. Social media: People can also find inspiration by following home and garden accounts on social media platforms, where they can see photos and ideas shared by others.
What is the biggest home or garden mistake you've seen someone make?
a. Using the wrong scale: Using fixtures that are too small or too large for the space can be visually unbalanced and make the lighting less effective.
b. Ignoring the function of the lighting: Failing to consider the purpose of the lighting (e.g., safety, ambiance, accenting specific features) can result in lighting that doesn't meet the needs of the space.
c. Overlighting: Using too many light sources or fixtures can create an overwhelming or harsh effect, and can also be energy-inefficient.
d. Using the wrong color temperature: Choosing bulbs with the wrong color temperature (e.g., using cool-colored bulbs in a space that would be better suited to warm-colored bulbs) can create an uncomfortable or unappealing atmosphere.
e. Ignoring energy efficiency: Using inefficient light bulbs or fixtures can result in higher energy bills and contribute to environmental damage.
f. Not considering the time of day: Failing to consider how the lighting will look at different times of day (e.g., during the day, at dusk, at night) can result in lighting that is ineffective or even distracting at certain times.
g. Neglecting maintenance: Failing to clean or replace damaged fixtures can result in lighting that is less effective and less attractive. Nearby bushes and shrubs often grow over fixtures as well, which may require either trimming or fixture repositioning.
Tell us something you've learned about running your business in the last 5 years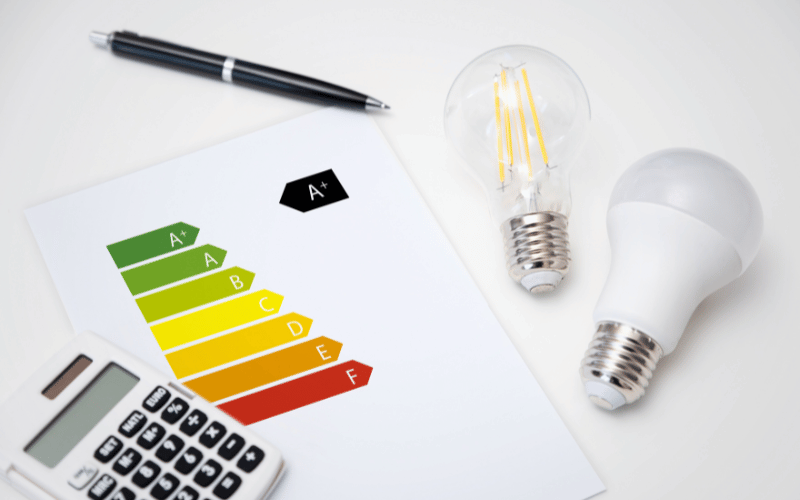 We are seeing an increasing demand for energy-efficient lighting products and engineering-savvy services. As consumers become more environmentally conscious and energy costs rise, they are seeking out energy-efficient landscape lighting solutions. Specifically, this is leading to an increase in the use of LED lights and other energy-efficient technologies in the industry. Since Blingle! only uses very bright, high quality LED technology, we are well-positioned to help customers switch from older lighting technologies. We are also seeing the increasing popularity of smart home technologies impacting the landscape lighting industry. As more homeowners invest in smart home systems, they may be more likely to incorporate landscape lighting into their overall smart home setup, which is driving demand for smart landscape lighting solutions. Blingle! installs the industry's best lighting control systems, transformers, fixtures, and accessories. Our most discriminating customers are left very satisfied.
What do you personally hope you see at the Home Show next year?
We would like to see more examples of blending various Home and Garden design and technology domains. For example, exhibitors specializing in "Construction & Renovation" may team up with others focused on "Pools, Spas & Saunas" and "Windows & Doors". That way OKC H&G Show attendees can see how the various elements both interact and magnify value across product and service categories.
What's one thing you hope attendees take away from visiting your booth?
Whether you want your outdoor lighting to illuminate your home's beauty, your family's safety, or functionality, our designers will create a custom project for your home. Our years of experience are mirrored by the quality of work we provide, which includes design, installation, and maintenance.
What else do you want to tell us (and all the folks coming to the Oklahoma City Home + Garden Show)?
LIGHTS TWICE AS BRIGHT: Blingle utilizes professional-grade lighting products and technology that not only makes your home, business or event shine, but keeps the lights on longer, brighter and more efficient.
NO LIGHTS OUT GUARANTEE: Our lighting designs use only the highest quality LED/RGB products on the market, with more than DOUBLE the lumen brightness of our closest competitor!
We GUARANTEE that your lights stay bright with our No Lights Out Guarantee… If a light goes out, contact us and a specialist will be out within 48 hours to repair or replace it.
We also want to share this TESTIMONIAL:
"Our HOA used Blingle to decorate our neighborhood's main entrance, and we were happy with the service and professionalism. Blingle's designers came up with a lighting package that perfectly captured the character of the neighborhood. We received numerous compliments about the lighting. Blingle was prompt and timely with the installation and removal of the lights. When an animal chewed through one of the lighting cables, Blingle responded the day we called and had the lights back on that evening."
Find them on our show floor January 20-22, 2023, in booth 1336 – sandwiched between the "Wine Village" and the "Fresh Ideas Stage". Grab a glass of wine, get some fresh inspiration and get ready to be illuminated by the team at Blingle!

For your next lighting project, reach out to Devin and his team for responsible, professional service done just bright. And remember to connect with them on Facebook at @blingle.oklahomacity to see what projects they are working on next.