Partner Spotlight: Rebuilding Together OKC
Jan 6, 2019, 15:13 PM
The Oklahoma City Home + Garden Show is partnering again with Rebuilding Together OKC to help improve the homes and lives of the metro's most vulnerable population. The organization will be at the show January 18-20 to offer information, show examples of their work and suggest ways for people to get involved.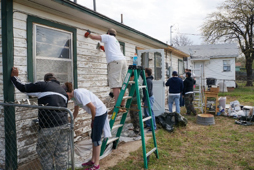 Rebuilding Together OKC brings communities together to improve the homes and lives of low-income homeowners. For the past several years, the organization has focused on a holistic, long-term approach by working with other agencies to tackle housing, employment and youth challenges in a single neighborhood. They will share examples of their work in central Oklahoma City neighborhoods, where they have renovated and repaired many of the homes. In addition to home repairs, they've worked with the local school, churches, employment professionals and other agencies to give neighbors in the area information about programs, opportunities and resources that could be beneficial to improving lives and the community.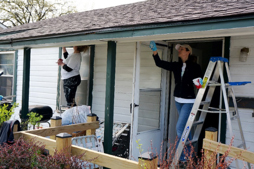 "Partnering with the Home and Garden Show is a great way to spread our mission and gain volunteers," said Mike Edmison, executive director of Rebuilding Together OKC. "We get to meet so many members of the community. More than 40,000 people come to the Home and Garden Show, and we can share about the critical needs in our community – people living without heat or with holes in their floor or ceiling. These are important stories that many people haven't heard."
The impact of Rebuilding Together OKC is significant and results in a value of $20 million to central Oklahoma each year. Since 1992, the organization has repaired more than 3,100 homes, 35 non-profit facilities and 8 public school buildings with the help of 70,000 volunteers.
Want to learn more about Rebuilding Together OKC?
Visit their booth in the Bennett Event Center at the fairgrounds to learn more about their efforts and how you can volunteer and visit
http://www.rebuildingtogetherokc.org/
.



JANUARY 18-20, 2019.
STATE FAIR PARK